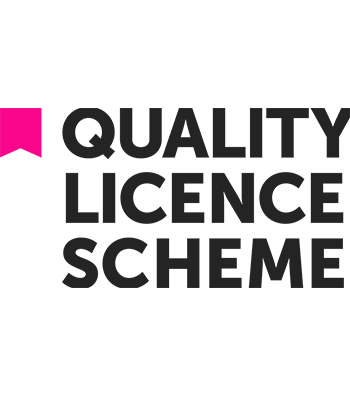 Online Academy work with
Quality Licence Scheme
The Quality Licence Scheme is part of the Skills and Education Group, a charitable organisation that unites education and skills-orientated organisations that share similar values and objectives. With more than 100 years of collective experience, the Skills and Education Group's strategic partnerships create opportunities to inform, influence and represent the wider education and skills sector.
Complete your course in 2 weeks or take 2 years. The choice is yours. You have the freedom to choose your own time to enjoy your study.
MULTIPLE CHOICE
ASSESSMENT
Modules are assessed by completing a series of multiple choice questions, allowing you to proceed steadily through the course whilst committing to memory the key points of each module.
You will be awarded an Online Academy Diploma when you have successfully completed all modules. This certifies that you have completed the course, having understood the material within it.
Use what's easy for you at the time; Laptop, tablet or smart phone.
Fit your study around your movements; at home, when travelling or relaxing.
ARE YOU LOOKING TO ENROL ON A COURSE TO...
Then you will enjoy and greatly benefit from this Fast Track method of study that is available across a comprehensive selection of courses
bbSutton314
Great informative course
I have done 3 courses now, 2 on dog grooming and one on human anatomy. All have been at my own speed. The modules allow me to pick it up and do when i have a spare 40 minutes. The end of module questions give me the revision i need to make sure it sunk in. I'm pleased with what I have achieved on these courses and would recommend them.
Morse121
Professional and helpful - 100% would use again!
SarahJBailey
Fantastic, I'm on top of the world
unicornamoeba
Well worth the money!
Excellent opportunity. Highly recommended. Recognised qualifications at the end another personal achievement to add to your portfolio/CV.
Caseycoughlan
The best boost for anyone
thoroughly enjoyed this course. There was no rush and I could take it at my own time. I am visually impaired and this has boosted my confidence immensely. I had no trouble with any of the modules. Mostly it was my not reading the question properly, so that is why I made the mistake I did. Thank you for the chance to prove myself as a person in my own right. When people know you have a disabilit...
johnsa908
Confidence Booster
RiceFlatly
Fantastic and so well set out
railsboft
Great that it can be completed in your own time
My Animal Psychology Diploma was a well written and informative course. Easy to follow and complete. Great that it can be completed in your own time, allows for day to day activities to be undertaken and study to fit in when it can.
wheatweek10
Great study, own pace, actionable feed/bk
was very impressed, overall the course has good content, easily digestible. I love online studies as you can go as quickly or slowly as you want, online tutors to help answer any questions. I think that the units, could have better quality content, broken into easier formatted module titles. Nice comments returned on improvements and context to think in own life scenarios! They certainly give ...
susans35485
Excellent course and feedback
signsnazzy
Very clear and informative course
Cdkc
The best online course I have experienced
I was able to complete the course at my own pace at a time that met my needs. I would and have recommended the course to my friends and I have been able to tell them about my learning experience and how my confidence grew as I progressed through the course.
andreaweber
Very interesting course
Really worth doing this course it gives a better understanding of autism and the strategies and what the path is to help others to put in place proper plans to suit each individual and there needs and giving them a voice it was tough course but with research and determination I found it interesting glad I completed it. Well worth doing, it takes a lot of hard work and a good attitude to complet...
kernelcapella
Excellent experience
corndexter
Great experience friendly and helpful staff
FAST TRACK ONLINE COURSES
These online courses are beautifully presented in a modular style that builds your knowledge and understanding in the time proven step-by-step manner. This makes learning a pleasure and you do not need any previous educational qualifications
Instead of having to puzzle over the composition of a written assignment at the end of each module, there are a series of multiple choice questions. These ensure that you have absorbed the material and they also act as a sure method of remembering the key points. Not only that your study time is reduced and so are the fees.
Such a method of presentation will enable you to study and successfully complete your course wherever and whenever you want either on a laptop or tablet computer.
These Fast Track courses are either independently accredited under the ABC Awards QLS licence or certified by Online Academy.
View more course categories